Shortcuts
Glima (NO)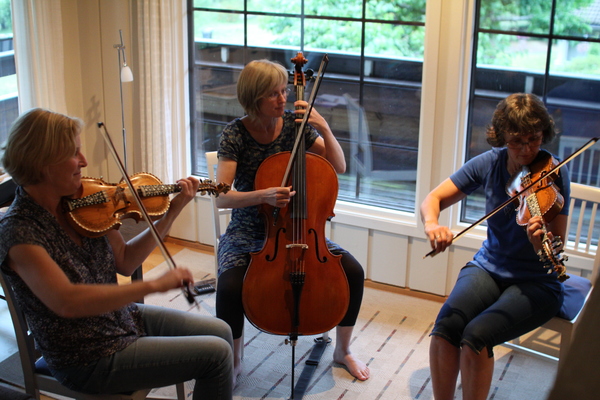 When: Thursday at 21:00
Where: Sjallinn
Glima is named after one of three female trolls living in the mountains surrounding Seljord, Telemark. Glima can also mean "a powerful radiance", which actually applies to this unique trio very well. The distinctive and dynamic result of the group's new recording could be called "chamber folk music". 
The musicians are solidly anchored within the Norwegian folk music tradition while they welcome new inspiration from both Norway and abroad. Glima is an unorthodox string trio that performs Norwegian folk music: Torunn R. Rue, Ragnhild Knudsen and Helene Waage. The musicians use Hardanger fiddle (the Norwegian folk fiddle with sympathetic strings), viola, cello and singing to perform material ranging from religious folk melodies and sensitive arrangements of other vocal material, to their own arrangements of exciting dance tunes.
Much of their music comes from Telemark, their home area, but Glima also performs traditional material from Western Norway. Glima has performed for over fifty nursery schools and kindergartens in addition to their own solo concerts. Glima has presented a large number of concerts for a diverse public, including the Telemark Festival and the Jorvik Viking Festival(York, UK). The tune Glima is recorded on the groups first CD (2001). Another of the trolls; Tĺrĺn, has her tune on the recent CD called Tĺrĺn (2009), produced by Tellef Kvifte (Chateau Neuf Spellemannslag, Lucky Loop, etc.). This CD was nominated for the Norwegian folk music award 2009. Distribution: Musikkoperatřrene. Shop: www.norcd.musikkonline.no
Torunn Raftevold Rue (Hardanger fiddle) is an experienced and highly active performer with strong musical roots in the folk music traditions of Hornindal in Nordfjord. She plays with Honndalstausene, and is also the musicaldirector of Seljord Spelemannslag. At the National Contest for Traditional Music she competes in class A, - the most prestigious category - on both Hardanger fiddle and ordinary fiddle, and often serves on the jury at local and national competitions.
Ragnhild Knudsen (viola/Hardanger fiddle) has studied music at the Bergen Academy of Music and the University of Oslo. She performs in a number of ensembles, including Seljord Spelemannslag and the Telemark String Quartet. She teaches folk music classes at Telemark University College in Rauland, and violin and Hardanger fiddle at Seljord School of Fine Arts. She is also the musical director of Seljord Juniorspelemannslag.
Torunn Raftevold Rue and Ragnhild Knudsen have been playing together since 1992, given concerts and performed at many different occasions. Both play hardanger fiddle, and in their duo they use the rich world of traditional hardanger fiddle tunes as their starting point. Ragnhild also uses her viola in the duo, and thus they create a varied range of expression, with the viola underlining and contrasting the musical material that is found in the traditional tunes.They both live in Seljord, in the rural part of Telemark, Norway. Every week they play for the local traditional dance group. Torunn R. Rue and Ragnhild Knudsen won first prize at the National Contest for Traditional Music in the group category in 2001 and 2008. 
Together with cellist Helene Waage they form the trio Glima.
Helene Waage (cello/voice) has studied music at the Norwegian Academy of Music and the University of Oslo. She has worked as a freelance musician for many years in a variety of contexts, including  Gjertruds Sigřynerorkester, Telemark Chamber Orchestra, various school concerts and as a  theatre musician. She has collaborated with musicians from various musical genres and participated in a number of projects as both musician and composer, including interdisciplinary productions with artists from other artistic fields.
You can listen to Glima here