Shortcuts
Guđrún Ingimundardóttir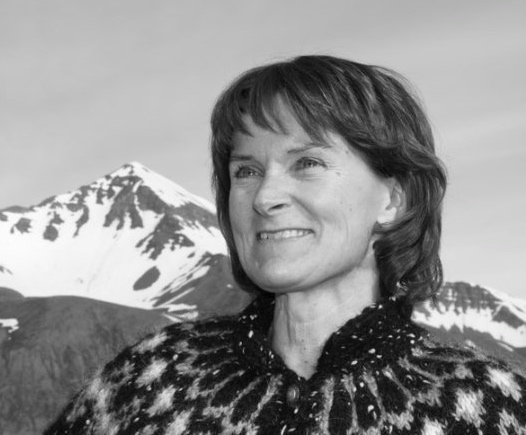 Guđrún Ingimundardóttir (Rúna) was born in 1963 in Húsavík, a small town on the north coast of Iceland and started early to play instruments, sing, dance and partake in the town's theatrical performances.
In 1990 she complete a masters degree in music theory and composition from the University of Arizona and in 2009 she earned a doctoral degree from the same university in music composition with a minor in ethnomusicology. Rúna has composed music for solo instrumentalists, singers, chamber ensembles and three compositions for a symphony orchestra, of which two have been performed by the Iceland Symphony Orchestra. She was the chairman of the Nordic cooperation of young composers, Ung Nordisk Music, from 1992-4.
Rúna was the secretary for the Reykjavík Arts Festival in 1998, the personnel director of Iceland Symphony Orchestra for 5 years, a human resources specialist at the Naval Air Station in Keflavik Iceland from 2001-2005. Since 2009 Rúna has worked for the Folk Music Center in Siglufjörđur where she lead a multinational project entitled NorthFolk Partnership, funded by Nordic Culture Point and Northern Periphery Program; managed Siglufjöđur Folk Music Festival and Center; taught piano, voice and music theory and conducted choirs in Fjallabyggđ; taught and advised masters students at three different universities in Iceland.
She has given concerts, presentations and workshops about Icelandic traditional music in Iceland and abroad, and worked persistently towards increasing the performance practices of Iceland's traditional music and dance. In the absence of an official institution that organizes and supports Iceland's living tradition of music and dance, she founded the company ŢjóđList (FolkArt) in order to create a "home" for her activities in the field of traditional music and dance. Rúna has published two collections of folksongs with CD, extracted from the enormous folk song collection Íslensk Ţjóđlög (Icelandic Folk songs) of rev. Bjarni Ţorsteinsson; the first has folk songs from Siglufjörđur and vicinity and the second has folk songs from Rúna's home county, Ţingeyjarsýsla. She became the Icelandic representative in the Nordic Committee for Folk Music in 2009.
Rúna is the chairman of Ríma, the traditional folk singers group in her home town of Fjallabyggđ. In March 2013 Rúna organized the first nationwide gathering of Icelandic traditional folk singers and founded Stemma - The Icelandic Traditional Folk Music Association (Stemma - Landssamtök kvćđamanna) of which she is the chairman. In the fall of 2013 Rúna became the first teacher of Icelandic traditional singing (kveđskapur) in an official music school in Iceland (Tónskóli Fjallabyggđar).
Dr. Gudrun Ingimundardottir, managing director
Nordic Folk Music Committee member for Iceland
Email: info@tradition.is
Tel: +354 869 3398