Shortcuts
The Danes are Coming!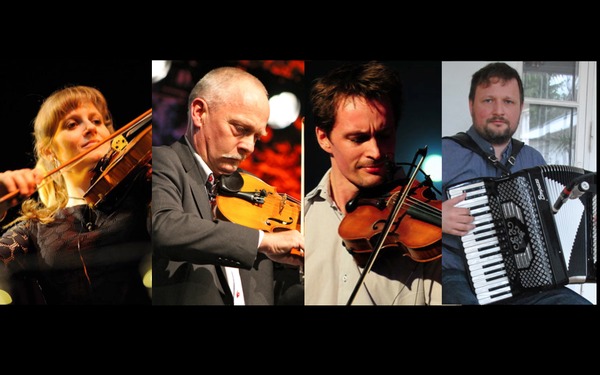 When: Friday at 23:10
Where: GrŠni hatturinná
The Danish folk music secretariat and Denmarkĺs National Folk Musicians have selected these four well known individual fiddlers and folk musicians specifically for this Festival. They all play key roles in various Danish folk bands. The group name is invented to this occasion. The Danes are Coming will share some of the traditional Danish music with the audience, dancers and Scandinavian colleagues.
Poul Bjerager Christiansen (fiddle) is the founder of Denmarkĺs National Folk Musicians. Poul plays solo, in RejseOrkestret and Fiddling Faroes. Traditionalist and Composer. Specialist in the music of S°nderho.
Peter Eget Hansen (accordion) is a board member of the umbrella organization FolkDanmark. Peter plays in the folk big-band Habadekuk and in lots of other constallations as well. He has an enormous repertoire of dance tunes.
Kristine Heeb°ll (fiddle) is Coordinator of the Folk Music Education of Southern Denmarkĺs Academy of Music and Dramatic Arts. She is the front figure in the well known concert band Trio Mio, playing mainly her contemporary folk compositions.
Henrik Jansberg (fiddle) is the folk music representative in the Music Committee of the National Danish Arts Foundation. Besides leading the Jansberg Band, Henrik plays for dancing, performs workshops and do music teaching.