Shortcuts
Thomas & Lisa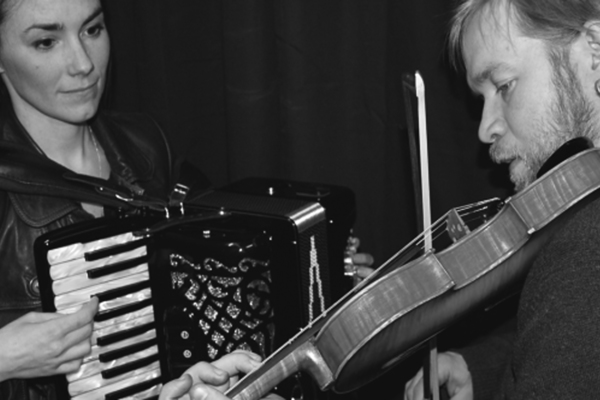 The fiddler Thomas von Wachtenfeldtĺs and accordionist Lisa E. Lňngbackaĺs paths have crossed in different contexts and an idea of collaboration has been around for a long time. In the summer of 2012, they finally performed to their first concert together at Grńnsfors Spelmansstńmma. Their repertoire consists mainly of tunes from Hńlsingland and Ostrobothnia.
Thomas is a classically trained violinist and researches and teaches at the Department of Arts, Communication and Education at Luleň University of Technology. He possesses a great historical knowledge of fiddlers and their lives, and is also a storyteller and musician with a rare width, ranging from collaborations with popular music acts like Yohio and Entombed to classical orchestras such as the Nordic Chamber Orchestra and Gńvle Symphony Orchestra.
Lisa is active in many genres and can be heard playing everything from Swedish pop with Tomas Ledin to jazz with Norrbotten Big Band and Wozzeck at Norrlandsoperan, via music for theatre with Folkteatern in Gńvleborg and folk music with Sofia Karlsson et al. The various influences can be heard in her personal way to approach music. Together, Lisa and Thomasĺs music is deeply rooted in the Scandinavian soil, with a large portion of playfulness and unpredictability.