Shortcuts
VäkeväKollektiivi (FI)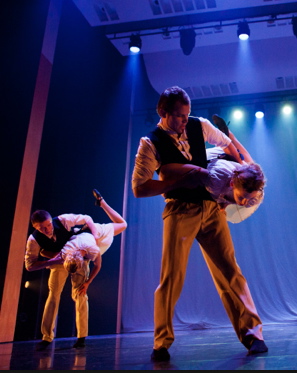 When: Saturday at 20:00
Where: Sjallinn 
VäkeväKollektiivi (VäkeväCollective) was established in 2012 to work as a contemporary art platform for young dancers, musicians and stage designers. The collective members share a common interest in the possibilities of Finnish folklore. Their aim is to approach and promote tradition by means of performing arts and to establish new structures for professional work in the field of folklore and folk art. A Finnish word Väkevä means strong or powerful. It also has another meaning, referring to folk and people.
Since its foundation, the collective has produced two premieres, Trinomia I and II. The first part of Trinomia, a choreography by Tuomas Mikkola, was awarded first prize in the international choreography contest of Kajaani in February 2013.
All of the dancers are educated professionally with their major in either Finnish folk dance or contemporary dance. Many of them are students or graduates of University of the Arts Helsinki, Theatre Academy (BA in Dance, MA in Dance Pedagogy, MA in Choreography) or of Oulu University of Applied Sciences (BA in Folk Dance Pedagogy). The sound designers and stage technicians are educated in Theatre Academy of Helsinki (Lighting and Sound Design department). 
The dancers from VäkeväKollectiivi coming to Tradition for Tomorrow are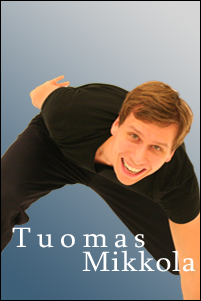 Tuomas Mikkola: Tuomas started dancing at an early age in Tahdittomat Youth Association. Today he is the leader of the Folk Dance Ensemble of the association. The ensemble is recognized as one of the leading folk ensembles in Finland and is actively touring in Finland and abroad. In 2013, Tuomas finished his BA in Contemporary Dance at the University of Arts Helsinki, Theatre Academy, and will continue his studies in the MA Programme in Choreography. Currently he is also finishing his Master of Science degree in University of Helsinki. As dancer and performer Tuomas has worked with Dance Theatre Tsuumi, Petri Kekoni Company and JoJo - Oulu Dance Centre productions. His choreographical work has been awarded in national and international competitions. In February 2013 his piece Trinomia was awarded a shared first prize in the international choreography contest of Kajaani Dance.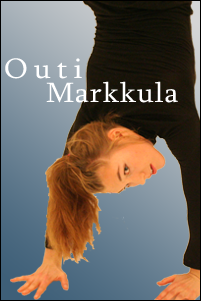 The piece was made for VäkeväCollective, recently established contemporary art platform of dancers, musicians and stage designers. Tuomas is one of the founder members of the collective.
Outi Markkula: Outi started her dance and music studies at the Conservatory of Kuopio for children. She continued her studies in music and dance during high school years and on to Professional Dance Studies at Tampere Conservatory, Folk Dance department. After graduation from Tampere Conservatory in 2011 Outi moved on to study contemporary dance at Amsterdamse Hogelschool voor de Kunsten in the Netherlands and at the University of Arts Helsinki, Theatre Academy. Outi is now a professional dancer.