Shortcuts
Music from Västanĺ Teater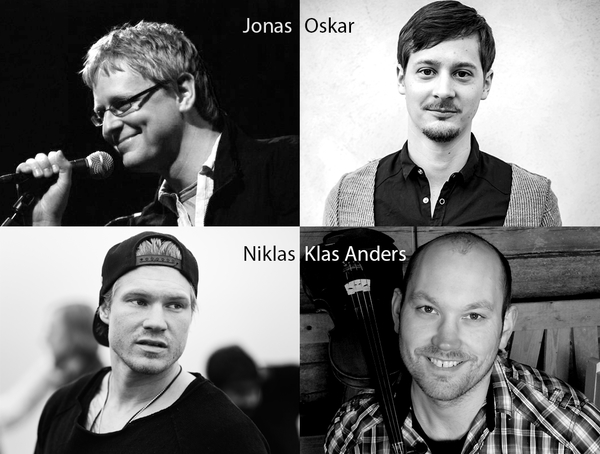 When: Saturday at 21:00
Where: Sjallinn 
Music from Västanĺ Teater, with Jonas Brandin, Klas Anders Haglund, Oskar Reuter and Niklas Bertilsson.
Over the years, Västanĺ Teater has developed a unique style where music, dance and acting equally share the responsibility in telling the story. The music has its natural place and becomes an indispensable part of the expression, the hub around which the performances circuits. The music in Västanĺ Teater's productions is composed by Magnus Stinnerbom.
"It goes without saying that Magnus Stinnerbom's music is a large part of the performance and therefore it was interesting to follow his close interaction with the director and actors. One gets an obvious co-actor in the music. It contributes unexpected traits of character, an unusual approach, both harmony and dissonance; simply, an interesting dialogue. And when the characters musical theme portends an entrance, yes, then the stage is set." Ingvar Hirdwall and Marika Lindström, actors
Jonas Brandin, Klas Anders Haglund, Oskar Reuter and Niklas Bertilsson have been part of the band at Västanĺ Teater for a long time. They have participated in productions such as: En Herrgĺrdssägen, Kalevala, En Midsommarnattsdröm, Gösta Berlings Saga and Nils Holgersson. They each stand as a strong representative of different genres, traditions and styles. Jonas with a background in the fiddle music from Boda Kyrkby and Dalarna, Klas Anders background is in the folkmusic tradition of western Värmland, Oskar (Goodland Trio och Downtown Ramblers) and Niklas (Skenet) represent the newer tradition of folkmusic ensemble playing, mixing new music with older traditional tunes in new arrangements.
They will give a concert with music from several different productions of Västanĺ Teater, entirely composed by Magnus Stinnerbom. The music is inspired by Nordic traditional music and sometimes with influences from the traditional music of other cultures. Suggestive old melodies of the hurdy gurdy and nyckelharpa along with dance tunes, "Jössehärspolskor", played on violin and guitar.
Jonas Brandin: violins, hurdy gurdy, flutes
Klas-Anders Haglund: violins, nyckelharpas, mandola, mandolin
Oskar Reuter: guitar, mandola, mandolin
Niklas Bertilsson: percussion and organ