Shortcuts
Akureyri 2000
North Meets North
The First NRF in Akureyri and Bessastadir, Iceland, 4-6 November 2000
---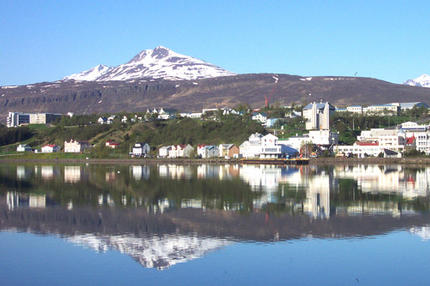 There were 111 people, 62 males and 49 females, who participated in the first Northern Research Forum in Akureyri on November 4 - 6, 2000. They included 17 from Russia, Finland 13, Iceland 31, Canada 20, Norway 8, USA 10, Denmark 2, UK 3, Sweden 3, Greenland 3, and Latvia 1. Participants included politicians, business leaders, civil servants, community leaders, resource managers, scientists, graduate students and educators.
Twenty-three young researchers actively participated in the congress.
The president of Iceland, Olafur Ragnar Grimsson, also Chairman of the NRF Honorary Board, opened the Forum in Akureyri with an address, which was followed by the presentations of Pekka Aikio, President of the Saami Parliament of Finland; Amalie Jessen, Vice-Director of Greenland Department of Industry; Peter Johnson, Canadian Council of Science and Technology Advisors; and Sergey Kharuchi, Chair of the Russian Association of Indigenous Peoples of the North. The five panel sessions that followed focused respectively on: The relevance of history to contemporary issues of peace and security; Northern economies in the global economy; Regionalism and governance; Implementation of the Northern Dimension, and Science and technology applications in the north.
The North Meets North proceedings include most of the panel presentations from the 1st NRF Open Meeting, i.e. the opening session and five theme-related sessions. It also contains all of the background essays specifically written for the 1st Open Meeting by people prominent in Northern issues from a variety of backgrounds. These invited position papers, which were released to participants in advance of the event, speak to a specific theme while they also address the question of opportunities for, and the barriers to, research in the circumpolar north. About twenty young researchers, most of them Ph.D. students, presented at the Forum during the "Open Square Hours" held after each regular panel session. The chapter called "Voices of Young Researchers" includes four of these presentations, dealing with different conference themes.
The 1st NRF closed with a Summary Session hosted by Olafur Ragnar Grimsson, president of Iceland, and was held at his residency, Bessastađir. Here, a representative group of young researchers presented their impressions of the former panel sessions to the entire group of Forum participants. A constructive dialogue followed, when the future of the NRF was discussed and the decision was made to hold the second Open Meeting in northwest Russia or Finland. Consequently and upon its meeting in Quebec City, May 2001, the Steering Committee of the NRF accepted a formal invitation from the city of Veliky Novgorod to host the second NRF.
The proceedings of the first NRF, North Meets North, have been published in English. This book can be accessed on www.nrf.is. For obtaining hard copies of the book, please contact the NRF secretariat at nrf@unak.is.