Shortcuts
Patricia A.L. Cochran, Executive Director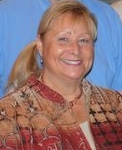 Patricia Cochran is an Inupiaq Eskimo born and raised in Nome, Alaska. Ms. Cochran serves as Executive Director of the Alaska Native Science Commission, an organization created to bring together research and science in partnership with Alaska Native communities. She also is Chair of the Indigenous Peoples' Global Summit on Climate Change and former Chair of the Inuit Circumpolar Council, an international organization representing 155,000 Inuit of Alaska, Canada, Russia and Greenland. Ms. Cochran is also former Chair of the Indigenous Peoples' Secretariat to the Arctic Council.
Ms. Cochran previously served as Administrator of the Institute for Circumpolar Health Studies at the University of Alaska Anchorage; Executive Director of the Alaska Community Development Corporation; Local Government Program Director with the University of Alaska Fairbanks; and Director of Employment and Training for the North Pacific Rim Native Corporation (Chugachmiut).
Ms. Cochran has served as Chair of the American Indian/Alaska Native/Native Hawaiian Caucus of the American Public Health Association; Science Advisor to the U.S. Arctic Research Commission; Member of the Alaska Global Planning Team, Member of the Science Steering committee for the National Science Foundation Human Dimension of the Arctic System; Advisory Committee Member for NSF Office of Polar Programs; Chair of the Indigenous People's Working Group for the International Congress on Circumpolar Health; Treasurer and Governing Council Member of the International Union for Circumpolar Health; Member of the National Native Science Education Advisory Council; Member of the National Research Council Committee on Managing Wolf and Bear Populations in Alaska and Committee on Cumulative Environmental Effects of Alaskan North Slope Oil and Gas Activities; Board Member of the American Society for Circumpolar Health, President of the Albrecht-Milan Foundation, Board President of the Abused Women's Aid in Crisis center; Member of the Southcentral Native Educators' Association; Steering Committee Member of the Northern Research Forum, Working Group Member of ICARP II (International Conference on Arctic Research Planning), Board Member of Native American Cancer Research, Program Steering Committee Member of the NIH Native American Cancer Research Partnership, Advisory Panel Vice Chair for the North Pacific Research Board, President of Spirit Days Incorporated, and U.S. lead for the Youth and Elders Initiative of the Arctic Council.