Shortcuts
Steven Bigras, Executive Director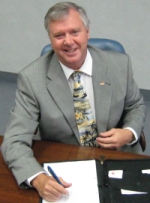 Steven Big
ras has been dealing with Arctic affairs for over thirty years. In 2012 he retired from the Canadian Polar Commission as its first Executive Director. He joined the Commission in 1999, as Executive Director and served on numerous national and international polar research advisory boards and committees. From 2005-2009 he was the Chair of the Regional Board of the International Arctic Science Committee (IASC), and the Canadian delegate on the Scientific Committee on Antarctic Research (SCAR) from 2000-2011.
Mr. Bigras came to the Polar Commission from the Department of Aboriginal Affairs and Northern Development Canada where he worked as a senior manager, specializing in circumpolar and scientific affairs, and economic development. He was responsible for the development and management of national programs in support of northern science and technology, and commercial opportunities.
A graduate of both Carleton University and the University of Ottawa, Mr. Bigras worked for 10 years as a hydrologist with Environment Canada's National Hydrology Research Institute, were he lead research projects on national and regional river ice and lake regime studies in the western Arctic.
Throughout his career Mr. Bigras has published and presented over a100 papers on a broad range of polar research issues. He is still active in Arctic and Antarctic matters and serves on a number of international polar research committees and advisory bodies.
Mr. Bigras is a recipient of Her Majesty Queen Elizabeth II's Golden Jubilee Gold Medal for Public Service and the Royal Canadian Geographical Society - 2010 Gold Medal as a member of the Canadian National Committee for the International Polar Year 2007-2008.